MF 7/8 Information

Wherever there's grass or snow there's a job for a Massey-Ferguson Lawn Tractor. There are three capable models; the MF 8 H, the MF 7 Electric Start and the MF 7 Recoil Start [there was a MF 7 hydro]. The MF 8 H has a hydro­static transmission and the MF 7's have a standard, three-speed transmission.
The MF 8 H is powered by an air-cooled, eight horsepower engine and the MF 7's have seven horsepower engines. By using the Hydra Speed Lever or gear selection, slow forward speed is possible with maximum engine speed, providing full power for implements such as the Rotary Mower or Snow Thrower. In close quarters, use of first gear or adjustments of the Hydra Speed Lever permits creeping around trees or buildings. When the congested area is passed, shifting gears or moving the Hydra Speed Lever permits operation as fast as conditions warrant.
MF Lawn Tractors may be used with the MF 710 Rotary Mower, MF 720 Snow Thrower, MF 730 Front Blade or MF 641 Dump Cart. Other useful attachments include sprayers, spreaders, rollers, lawn aerators, lawn sweepers and other light-duty, pull-behind equipment.
MF 8 H and MF 7 Electric Start Tractors may be equipped with a cigarette lighter, headlights and tail light. In addition, tire chains, wheel weights and chrome wheel covers are available. A speed reduction kit may be used with MF 7 Tractors for maximum power at minimum speed (recommended for use with MF 720 Snow Thrower).
Specifications
MF 7

Capacities:




Fuel Tank 1 gal.

Engine Crankcase 19 ozs.

Transaxle 2 pts.




Dimensions:




Approx. Weight w/mower Recoil 470 lbs.

Electric 505 lbs.

Length 58 1/2"

Width 32 1/2"

Height (Top of Steering Wheel) 36 1/2"

Turning Radius 10 ft., to center of outside front tire




Wheelbase: 41"

Front Tread: 25"

Rear Tread: 24"

Tire Sizes and Pressures: (same all models)

Front--15x6.00-6 12-16 PSI

-- 5.30/4.50 x6 18-22 PSI

Rear--18x8.50-8 8-12 PSI




Engine:




Make: Tecumseh

Model: H 70

Bore: 2 3/4"

Stroke: 2 17/32"

Displacement: 15.0 cu. ins.

Brake Horsepower: at 3600 RPM (manuf. rating) 7 HP

Governed Speed:

Min 1600-2100 RPM

Max (no load) 3350-3650 RPM




Ignition:




Spark Plug Type Champion J-8

Spark Plug Gap .030"




Battery: 12 volt, 24 amp. hour




Brake: Caliper type disc

MF 8

Capacities: same except for 24 ozs of engine oil instead of 19




Engine:




Make: same

Model: HH80

Bore: 3"

Stroke: 2 3/4"

Displacement: 19.4 cu. ins.

Horsepower: 8 HP

Governed Speed:

Min. same

Max 3450-3750




Ignition: same except for .028 plug gap

Mower Model 710

Type: Rotary

Width: 34"




Blades:




Drive (From Tractor) "V" belt

Cutting Height: 1 1/2 to 3"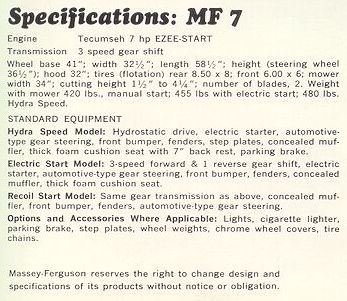 This was taken from a Massey Ad in 1969-some of the information may not apply to older and newer models of MF 7s.